A reception was held on March 3, to welcome new international students to Tohoku University, and to send off those who are graduating, or completing their course this spring.
In his opening speech, President Susumu Satomi gave a brief history of the university and said he hoped that incoming students will "gain an excellent education while making friendships that will last a lifetime." To the students who are leaving, he said he hoped that they will always look back on their time at Tohoku University with both pride and fondness.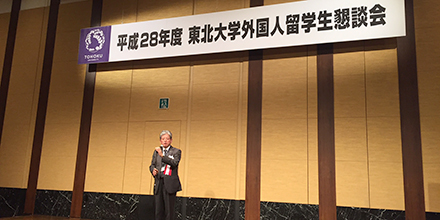 He also gave special thanks to the instructors and staff of the support organisations who work year-round to provide help to international students.
Graduating student Anna Zhang and newcomer Alain Hien also gave speeches, reflecting the feelings of many there. Such as Ali Haider, a neuroscience graduate student from Pakistan. "I really didn't know much about Japan before I came, so it's a whole new world and a whole new culture. I'm really excited to be here."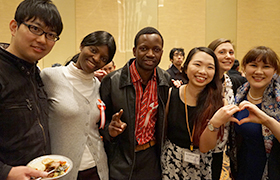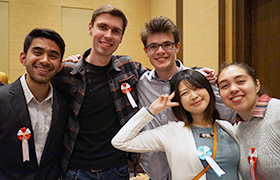 For the students who are leaving, there is the bittersweet anticipation of going home but also saying goodbye to friends.
"I will miss the people the most," said physics student Tomas Gutierrez. "I know more people in Sendai than in my home country of Costa Rica. I came here when I was 18, I've been here four years and all my friends are here, not just at the university, but all across Sendai and Miyagi too."
"Sendai has become my second home," said Germaine Lau, an applied marine biology student from Singapore. "I've made amazing friends from so many different backgrounds and I love the way the city changes every season. There are so many beautiful places where I can go hiking and be with nature. I will really miss that when I leave."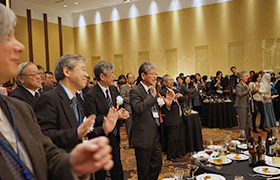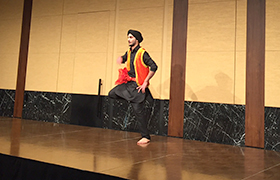 The evening included dinner and a multicultural performance put on by international students.
Gutierrez, who is the outgoing president of the Tohoku University Foreign Students Association, has this final advice for those just starting out: "Be yourself. Of course you should try to fit in, but being foreign, being different means you can also bring new energy and new ideas to the university. That's an important contribution."
The public relations department joins the rest of the university in welcoming all new students and wishing all graduating students the very best of luck on their next adventure.
Contact:
Student Exchange Division
Email: ryugaku@grp.tohoku.ac.jp