The International Student Help Desk is bringing back in-person services this semester. International students who need help can still use the online service, but those who prefer to stop by the Help Desk in person, can do so from June 8.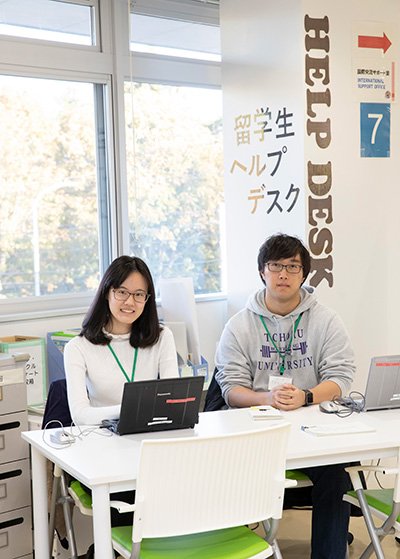 The service, which originally began in April 2019, was set up to help international students adjust to being in Japan by providing assistance, such as explaining procedures at government offices and hospitals, translating notices and giving directions to places around campus.
Most of the students who man the desk have experience studying abroad and can relate to the challenges of being a foreigner trying to fit in a new environment. So anyone needing a bit of extra support is most welcome to stop by.
The desk is mainly bilingual in Japanese and English, but also offers other language support at specific times. Please check the Help Desk's Facebook or Instagram pages for available languages. No appointment is necessary and it is of course, free.
International Student Help Desk (in-person)
2nd Floor, East-wing, Education and Student Support Center, Kawauchi Campus (map)

International Student Help Desk (online)
To access the service, students should log in to Google Classroom via their DC mail account, with the class code: wfm3mxf
For more information, please visit: https://www.insc.tohoku.ac.jp/english/support/international-student-help-desk/

News in Japanese
Contact:
Rumi Watanabe
Global Learning Center
Tel: 022-795-4988
Email: rumi.watanabe.c5

tohoku.ac.jp