Being far away from home can be a daunting experience. Add a language barrier and cultural differences, and life as a foreign student can sometimes be quite challenging.
To help the dozens of exchange students who come to Tohoku University on the International Program in Liberal Arts (IPLA) each year, a support network called IPLANET (see what we did there?) was set up by the Global Learning Center six years ago.
"Unlike the exchange program for engineering and science majors (JYPE), IPLA students don't have laboratories that can act as their host families on campus," says Kazuko Suematsu, deputy director of the GLC and founder of IPLANET. "So I decided to create a group which can be a source of local knowledge and support for IPLA students."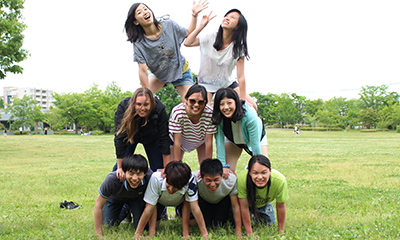 "When IPLA students first arrive in Sendai, we pick them up at the station and take them to their dormitory," says Rei Suzuki, one of the student leaders of IPLANET. "We also help them if they need to open a bank account, get registered at the ward office, get a phone or buy a bicycle. Many Japanese staff don't speak English and some IPLA students cannot speak Japanese well, so it is difficult for them to get these things done by themselves."
Aside from providing logistical support, the group is a lively social club with monthly activities such as cooking classes, cultural experiences and field trips around Miyagi.
It's a chance for the international students to experience Japan beyond the guide books, and a chance for Japanese students to meet people from diverse backgrounds.
"IPLANET members are Japanese students who are interested in other countries. Most of them want to go overseas to study too," says Suzuki. "Through IPLANET, they can make friends from all over the world, and get to know of what it's like to be an international student living abroad."
The group started with just seven members in 2010 and has since grown to be over a hundred strong.
"It used to be really difficult to recruit Japanese students willing to support and communicate with international students in English, says Suematsu. "But we've come a long way because as more Japanese students go on study abroad programmes, they become more open and interested in cross-cultural activities."
"When I was a first-year student, I went a summer programme," says Ryoto Birukawa, who spent a month at UC Riverside. "The American students were so helpful. So after I came back to Sendai, I joined IPLANET to help other exchange students."
The helping and sharing goes both ways. One of the most popular activities run by IPLANET is the Global Café, informal conversation classes where IPLA students teach their native language and share information about their home country with local students.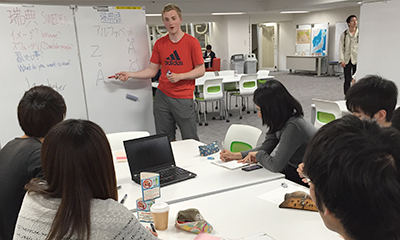 "Our main goal is to help foreign students. But our bigger goal is to encourage Japanese students to get more exposure to life outside Japan, to learn more, experience more," says Suzuki.
"IPLA and IPLANET members do a lot of things together so we can get to know each other very well," says Yosuke Osaki, who is also a student leader at IPLANET. "We talk all the time, just like normal friends."
Links:
Contact:
Student Exchange Division
Tel: +81-22-795-3775 or 3745
Email: ipla@grp.tohoku.ac.jp