A group of JYPE alumni held a 10 year reunion event at Tohoku University this week, proving that it is never too late to give back or indeed to go back.
The students from the 2005/2006 JYPE class had stayed in touch with each other after leaving Sendai, and came up with the idea of combining a get-together with a mentorship event and a visit with former professors. Sixteen members made the trip, and 13 volunteered to share mentoring advice with current students.
"That year on JYPE was a very important year for us because it gave us great experiences," said Nicolaas Puts, who currently does research at John Hopkins University in the US. "One of the things we wanted to do was to share how the program shaped our lives and how it helped us get to where we are."
Renaud Klein, who now works for Areva, a French nuclear power and renewable energy company, had some advice for those looking to go into management. "It's important to have an open mind as a manager. Don't just ask for opinions and dismiss them, but really listen and consider other people's ideas as you make your decision."
When asked how to reconcile new ideas with old rules, he said "don't give up. Never give up without trying. If you believe in something, take it step by step and if it's the right decision, people will follow you."
Gordon Tong, who works at a technology firm in Shanghai, talked about fast-growing e-commerce in China and opportunities in unexpected places. "China has potential, is a big market and you can do great things there. China encourages creative ideas and entrepreneurs to do their own business, and that's new and very exciting."
Tong, who moved from New Zealand to Shanghai to work, stressed the changing social climate there. "Nowadays, Chinese people really want to change their lives, especially the younger generation. They are open minded and accepting. And with information technology, there's always something new and so many opportunities."
Being open to new ideas is also a theme that all the JYPE alumni involved in the mentoring event feel strongly about. "I think many students believe that once they've decided on a course, they're stuck with it," said Puts. "We're here to say you're not defined by what you're currently studying. You need to spread out and be willing to do different things. Whether it's an instrument or doing an unconventional job, find something you are passionate about and at least try it."
Brian Tzu-An Chao, a current JYPE student from the University of California San Diego, said the message was reassuring. "I thought it was very cool to hear from past students about how JYPE affected their career and lives. Usually it's preached - pick a job and stick with it. But it's nice to hear that people here have done a variety of jobs and been both successful and happy."
JYPE stands for Junior Year Program in English, and is Tohoku University's largest undergraduate exchange program. There are currently more than 60 JYPE students here.
"Aside from the great advice, I think the biggest take away today was to enjoy this year because it's going to be one of the best years of our lives," said Chao. "With the world becoming more and more global, it's very important to understand different cultures and to have these international experiences with people from different and interesting backgrounds."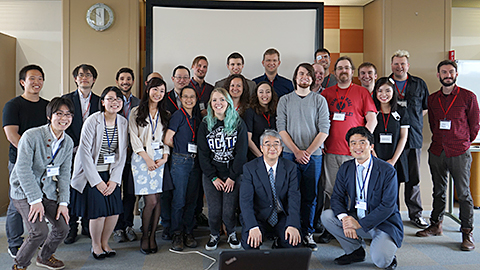 Contact:
Student Exchange Division
Email: studyab

grp.tohoku.ac.jp