As part of Tohoku University's on-going efforts to encourage women in science, the Center for Gender Equality Promotion (TUMUG) hosted its first collaborative project between the Science Angels and students from the Massachusetts Institute of Technology.
Titled "Let's STEAM!" (referring to the acronym for Science, Technology, Engineering, Arts and Mathematics), the event was a morning of fun experiments with some 50 children led by seven Science Angels and six American students from the MIT International Science and Technology Initiatives (MISTI) programme.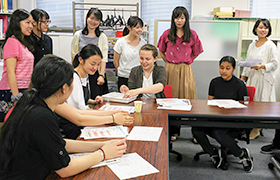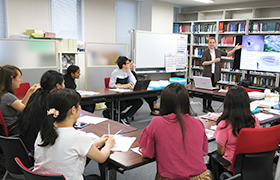 "Nurturing the curiosity of young people is very important, and workshops like this away from the classroom and having not a teacher, but young university students talking about science, is a good way to energise these children," said MIT-Japan Program Manager Christine Pilcavage.
"A lot of kids grow up hearing things like 'girls should be teachers, girls should be nurses,' right? I think at an early age, they should be hearing: you can be a doctor, you can be an engineer, you can be an astronaut, you can be anything you want to be so long as you work hard."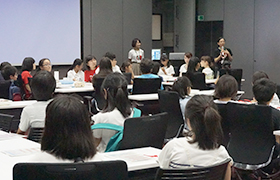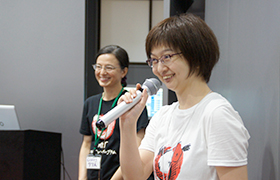 For many of the participants, the workshop was also a good opportunity to practice their English.
"My children don't usually have the chance to interact with people who have global experience, so they wanted to meet the MIT students," said Rika Kimura, who brought her 8-year-old daughter and 11-year-old son.
The first experiment was proposed by the Science Angels and involved extracting DNA using simple items found in the kitchen. Participants were asked to rinse their mouth with water while chewing softly at the insides of their cheeks. After spitting the water into a cup, they added salt and detergent, followed by several drops of ethanol, which caused the DNA to turn white and become insoluble.
"My daughter just showed me her DNA," said Yoko Onodera. "She's 10 and loves science. She looks like she's really enjoying herself today!"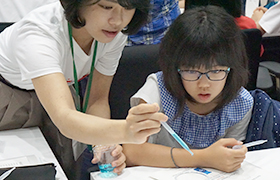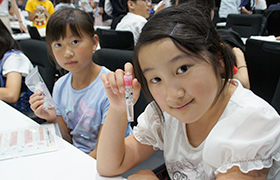 The second experiment was led by the MIT students. In "The Science of Soap," participants compared the difference in surface tension of water with and without the inclusion of soap. "We wanted an experiment that was hands-on and we wanted some sort of lesson and application to real life," said Pilcavage.
"This was a good opportunity for the children to enjoy a basic level of science - nothing too difficult, just the reason behind why things happen," said Michael Galvin, who's originally from Ireland and the father of two teenage girls. "I think my girls enjoyed both the science and the international environment."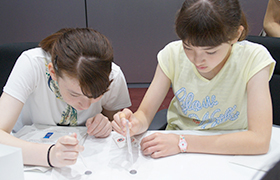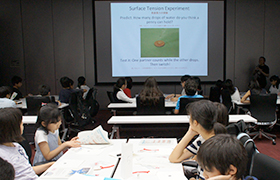 The event ended with a demonstration of machine learning, a kind of artificial intelligence that allows software applications to predict outcomes through algorithms, followed by a lively question and answer session.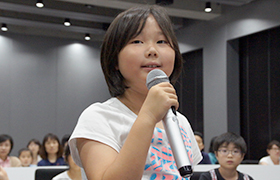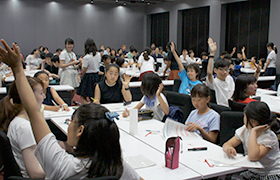 "When we were planning this, we wanted to get children interested in science," said Fumi Seto, a Ph.D. Research Associate at TUMUG. "But we also wanted our Science Angels to have the chance to meet and interact with female university students from another country. We hoped that they would make friends and form relationships through a common interest in science. I think we succeeded in both our goals."
The Science Angels programme celebrates the dynamism of women in science. Members engage in outreach activities, give lectures in schools and serve as role models for young girls. The programme was initiated in 2006, and remains a cornerstone of Tohoku University's on-going efforts to promote the role of women in science.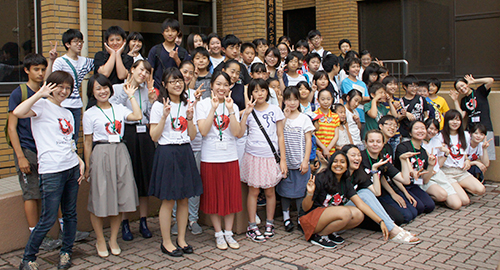 Contact:
Tohoku University Center For Gender Equality Promotion (TUMUG)
Tel:+81 22 217-6092
Email: office@tumug.tohoku.ac.jp