For those who like to enjoy a break in the countryside, the seasonal seminars at the Kawatabi Seminar Center offer the opportunity to stay near a popular tourist spot for a fraction of the usual cost.
The center in Osaki City is a two-hour drive from Sendai City, and built on the Field Center at the Graduate School of Agricultural Science. Students and staff of Tohoku University can stay at the facilities' lodgings, and eat cooked meals at the dining hall.
Participants on the recent autumn seminar (October 24~25) included postdoctoral researchers, as well as graduate and international students. Leaving campus by minibus on Day 1, the group arrived at Kawatabi just in time for lunch, before heading out for a nature walk and a trip to the thermal spa at Naruko.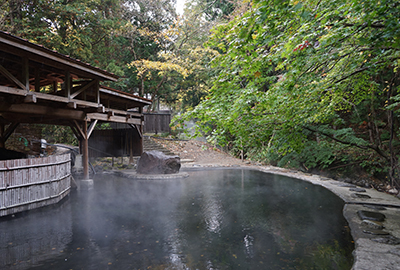 "I came on the trip to get energy from nature and purify my heart with clean air," said postdoctoral researcher Sachiko Horie from the Institute of Development, Aging and Cancer. "I also wanted to broaden my horizons by learning something new."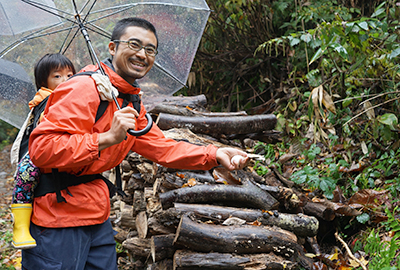 Guided by Forest Ecology researcher Yu Fukusawa on Day 2 of the trip, the group learnt about edible plants. They discovered that the so-called "wasabi" mushrooms do indeed have a certain bite. "We had an amazing guide in Professor Fukusawa, who is so kind and full of knowledge," said graduate student XiaoBen Yuan from Shanghai.
"The highlight for me was definitely the foot spa," he added. "Because it feels so great to get this close to nature - and you are literally experiencing it by foot!"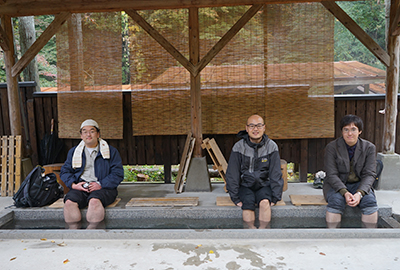 The foot spa with wooden bench seats and a hot spring inlet, was a welcome pit stop for cold trekkers at Onikobe. Steam could be seen shooting out of geysers as the trekkers made their way down to the hot-water falls.
By the time the group hiked over extraterrestrial-like terrain at Arayu-jigoku, most had their shoes off to wade in the hot pools to warm their feet.
For many of the participants, the field trip was a chance not just to bond with nature, but to also mingle with their peers from other disciplines.
"I'm fairly shy, so I was nervous about going at first," said graduate student Hiroyuki Narita. "But I really like plants so I decided to go to the spring seminar in 2014. Everyone ended up chatting to one another naturally." Since then, Narita has gone to the field center every chance he's had, including participating in seminars held by the Graduate School of Agricultural Science. He recalls one night in particular: "I walked outside and the whole sky was lit up with stars. I was blown away."
To use the facilities for training, seminars or study, students and staff of Tohoku University need to apply as a group of 5 or more. Stays can be up to five days long. Please refer to the center's website for available dates.
For enquiries about the Kawatabi Seminars:
Student Affairs Planning Section
Education and Student Support Department
Email: sta-gaku

grp.tohoku.ac.jp
For enquiries about this article:
Tohoku University International PR Section
Tel: +81-22-217-4816
Email: public_relations

grp.tohoku.ac.jp