What should be done on the uneasy Japan-China relations? Professor Emeritus of Harvard University and sociologist, Ezra F. Vogel, author of "Japan as Number One," held a lecture at Tohoku University on Friday, September 19.
The lecture was held at the "Lu Xun Lecture Hall," named after the modern Chinese poet who studied there as a student. Titled "American Views on Sino-Japanese Relations," Professor Vogel offered his views on how the future dialogue should be between Japan and China based on his 40 years of research on the two nations.
Professor Vogel mentioned the relative good relations that existed between Japan and China regarding technological and cultural exchanges immediately after the establishment of diplomatic relations, pointing out the lack of mutual understanding on part of both nations following the 1990s. He stressed the importance for both Japan and China to not provoke each other in order to improve relations. In Japanese, Professor Vogel stated that "Japan should be more proud of its pursuit for peace and should emphasize this fact to the West" to an applauding audience of around 80 people.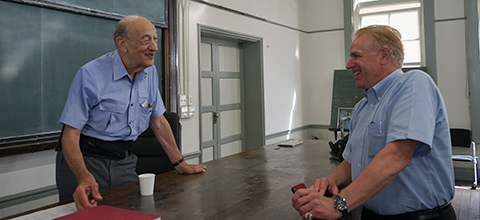 In a private interview with Tohoku University conducted before the lecture, Professor Vogel expressed his surprise at the speed of the reconstruction in Sendai and admiration to those committed to the reconstruction. He also mentioned that a university should educate people about their country and nurture open-mindedness as its main mission. Regarding the importance of language, he stated that "instead of sounding smart, speaking in front of others should be clear and easy to understand" as the secret to making good speeches.
Professor Vogel's video interview is scheduled to be posted on Tohoku University's official YouTube channel at a later date.
Contact:
Tohoku University
Public Relations Department
Tel: +81-22-217-4977
Email:
public_relations

bureau.tohoku.ac.jp