Earlier this month the Lord Speaker from the House of Lords in the United Kingdom, the Rt Hon. the Baroness Frances D'Souza CMG visited Japan. Baroness D'Souza entered the House of Lords in 2004, and was elected as the second Lord Speaker by her peers in 2011. Initially invited to Tokyo by the Speaker of the House of Councillors from the Japanese National Diet, Baroness D'Souza specifically chose to speak at Tohoku University as the first university in Japan to admit women.
Following a meet and greet with Tohoku University President Susumu Satomi, she was shown around the Tohoku University Center for Gender Equality Promotion by the Center Director and Executive Vice President, Toshiya Ueki.
In the afternoon, the Baroness gave a talk at the faculty of Law and spoke on three main issues: the role of the House of Lords in the United Kingdom, gender equality and women's political engagement, and the relationship between the United Kingdom and Japan.
Lady D'Souza gave a brief history on the House of Lords and talked about its transformation over the centuries from a hereditary institution into an appointed one. She emphasized that the house carries out valuable work with members coming from a range of backgrounds having the ability to provide expertise, some members having no political affiliation.
On the topic of UK-Japan relations, she remarked that last year commemorated four hundred years of official relations between the two countries, with the arrival of the ship 'The Clove' to Japanese shores. These days, the UK exports goods and services to to Japan worth 10 billion pounds annually, while Japanese investment in the UK supports thousands of jobs in Great Britain.
In regards to gender equality and women's political engagement, Baroness D'Souza said that women's political participation is essential, as without it, the political conversation is incomplete. 'Democratic systems are at their most legitimate, credible and effective, if there is political engagement from all corners of society. It therefore damages a democracy if women are excluded.'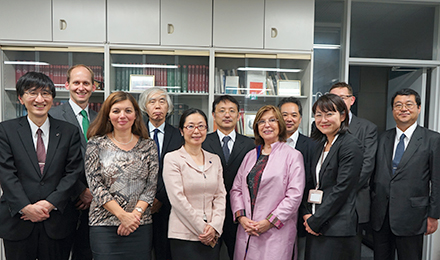 'Creating the conditions that encourage political participation for women is a crucial driver for achieving development, and for establishing stable and successful societies.'
Women currently make up only 8.1% of the house of representatives in Japan, and Prime Minister Abe is actively trying to boost female participation in politics and business. An increase of women in employment would contribute significantly to Japan's GDP, something that needs to be considered to offset the country's aging population.
Practical reforms to make it easier for women to be a part of the workforce include moves to promote flexible work hours and to combat the long working hours culture.
Commenting on a change in cultural attitudes as being crucial to supporting women's liberation and equality, the Baroness said, 'Women's political empowerment can only flourish if it's roots are deeply embedded in a culture of women's educational and economic equality.'
Tohoku University is currently implementing programs designed to stimulate interest in science with girls at elementary, junior high, and high school. These are being co-arranged by faculty run associations the 'Science Angels' and 'A.L.I.C.E.' (the Association of Leading Women Researchers in Engineering), organizations that promote gender equality on campus through holding events, providing supportive role models and information share.
The university is committed to increasing the number of women researchers and scientists by offering technical or administrative support personnel to assist female teaching staff who have small children. There are two campus child care centers, as well as day care at the hospital for children who are sick. This service is available to all staff and students.
In her closing comments Baroness D'Souza addressed the audience of students, saying that as the next generation they are collectively responsible for making changes. In particular, it is up to women to promote laws that will make them an economic driving force, and it's up to women to convince men that it's a good idea.
Contact:
Tohoku University
Public Relations Department
Tel: +81-22-217-4977
Email:
public_relations

bureau.tohoku.ac.jp