Norway is at the forefront of gender equality issues. Political reforms made by the Norwegian government to include gender quotas have seen a rise in women in business and politics. For countries like Japan, wishing to lessen the gap in gender equality, Norway can provide a model for how to improve the situation on home ground. The Sendai Gender Equal Opportunity Foundation has been benefiting from lessons learned in Norway for nearly 15 years through study and cultural exchange.
In the wake of the 2011 Great East Japan earthquake, and in direct support of women in disaster hit regions, Norway established the 'Women's Leadership Fund'. The Sendai Gender Equal Opportunity Foundation has been using funds to facilitate programs throughout the region. Objectives include developing leadership skills in women in business, and the promotion of women in regional decision making.
Last year Tohoku University celebrated 100 years since female students were admitted -- the first university in the country to enrol women. Norwegian Deputy Minister Ragnhild Setsaas attended an event held at Sendai Mediatheque where a presentation was given by Dr. Noriko Osumi, Vice Director of the Tohoku University Center for Gender Equality Promotion. With support from the Women's Leadership Fund, six female students from universities in Fukushima and Miyagi travelled to Norway on a study trip in October.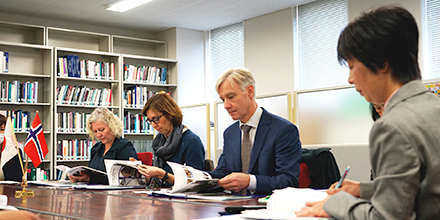 In a recent visit to Tohoku University, the Norwegian Ambassador to Japan, His Excellency Mr. Erling Rimestad met with 'Science Angels' students and Executive Vice President, Toshiya Ueki at the Center for Gender Equality Promotion.
Science Angels are female graduate students from science fields who network to promote women in science and provide mutual support on campus. The project was initiated in 2006, and to date there have been more than 800 Science Angels. The group holds outreach programs with elementary and junior high school children, to encourage interest in science through hands on experiments and activities.
Ambassador Rimestad commented that while Norway requires 40 percent of board members in public companies to be women, in higher educational institutions the technical areas are still dominated by male staff. Vice President Ueki agreed that this was largely the same in Japan, but that academic positions in the future will be filled by current students like the Science Angels. Both agreed that the future is bright for women in science.