On January 14, Professor Lyn Evans, Director of the Linear Collider Collaboration(LCC) and LCC members visited Tohoku University to discuss logistical planning for the prospect of hosting the world's next big collider.
The LCC is an organization that brings together the International Linear Collider Project (ILC) and the Compact Linear Collider (CLIC) to advance the global development work for the next-generation particle collider.It strives to coordinate R&D for accelerators and detectors around the world to help determine whether a collider should be built and where.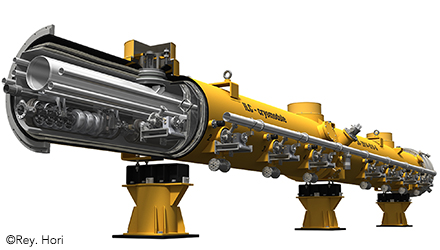 Scientists believe that 95% of the universe is made up of dark matter and dark energy yet to be discovered. It is hoped that the proposed International Linear Collider will answer questions about what the universe is made of and provide new insights into how it works.
The main contenders for hosting the International Linear Collider Project are Europe, the Americas and Asia. If built in Japan, one of the proposed sites for the ILC is in the Kitakami mountain range which runs through Miyagi and Iwate prefectures.
The site is a two hour drive north of Sendai city, stretching 30km in total length. It is expected that the base would attract thousands of scientists and engineers to the region. The LCC visited Kitakami to evaluate conditions for transporting heavy equipment to the area.
At Tohoku University, the LLC met with the Tohoku University Council for the Promotion of the ILC. The council reported on the current activity taking place to support the project, including geological surveys and town planning.
See the video for an abstract explanation of how the ILC works.
http://youtu.be/40Ap98o-4tU
Contact:
Professor Hitoshi Yamamoto
Experimental Particle Physics Group - Accelerator
Graduate School of Science
Tel: +81-22-795-6730
Email: yhitoshi

epx.phys.tohoku.ac.jp