Sendai Mayor Emiko Okuyama met with students at the University of California Riverside's Tohoku University Center, during an official visit to the American city last October.
She spoke briefly to Ko Kitamura, an exchange student from Tohoku University, as well as several UCR students who had recently been to Sendai on exchange programs. These included Andrew Apostol and David Luu, who had spent a year at Tohoku University on JYPE, and Tammy Nguyen, Esther Chung and Adam Toy who had participated in the 2016 TUJP.
The Tohoku University Center was set up at the UCR Extension as a place for students to interact and share experiences, especially about Japan and the US.
During talks with UCR Chancellor Kim A. Wilcox, Mayor Okuyama praised UCR for its diversity-rich environment and for nurturing student leaders through its exchange programs with Tohoku University.
Chancellor Wilcox also expressed his hope that the partnership between UCR and Tohoku University will continue to grow and strengthen.
Tohoku University and UCR have a unique 4-way relationship, being sister universities in sister cities. In fact, the Sendai-Riverside pairing is the oldest among all American-Japanese sister cities. It will celebrate its 60th anniversary this year.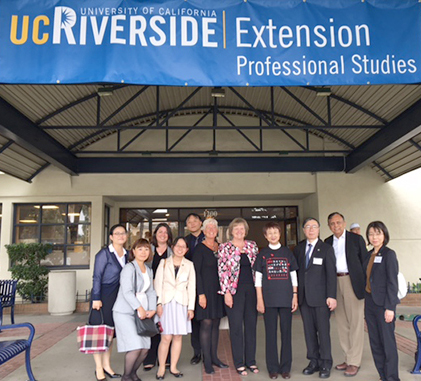 Contact:
Global Learning Center
Email: studyabgrp.tohoku.ac.jp