Learning to communicate in a second language is a daunting prospect for anyone. So to encourage local and international students to face their fears head on, an English language debate club - the D-project - offers students the chance to share their opinions in a relaxed setting.
Held monthly during term at the International Oasis at Kawauchi South Campus, the D-project is now in its fourth year.
The project was initiated by students in 2012 to promote cultural exchange, a year and a half after the first English language degrees were introduced at Tohoku University.
"We started the project to help bring the international students together as a group, and at the same time to involve Japanese students," says PhD student Svetoslav Georgiev, one of the founders of the D-project. He says the interest in Japanese students wanting to learn English has increased with the influx of international students.
"Japanese students are often not prepared to participate in a Western classroom setting, so we came up with the idea to improve language skills through debates and discussion."
The debates are on various themes, sometimes of an academic nature and often topical. Participants are given a topic which they are briefed on, and then divided into teams to argue for or against the case.
"It helps build confidence and prepares students to think analytically," says Georgiev. "These are skills that all employers look for."
A unique aspect of the D-project is the range of perspectives on any given topic from its culturally diverse participants.
"Because of the D-project, I've found new friends and had a fun time discussing different topics," says the D-project's new coordinator, Kiya Okhlopkova. "I also gained knowledge in various spheres - from how people around the world celebrate winter holidays, to the immigration policy of Japan."
The debate club is not just for students learning English, but is an opportunity to meet people and put cross-cultural communication into practice.
To put your debating skills to the test, join the D-project at the International Oasis in Room 106 of the Multidisciplinary Research Building on May 30 at 6pm. The topic for debate is "Plastic surgery - are you for or against it?"
For information on future sessions, see the link below.
Link:
https://www.facebook.com/DprojectTohokuUniversity/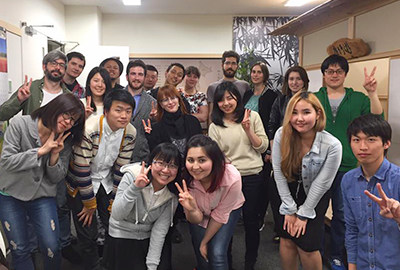 Contact:
Kiya Okhlopkova
Email: kiya.okhlopkova

gmail.com