Tohoku University alumnus and newly appointed Distinguished Invited University Professor Hiroshi Maeda gave a special lecture at Aobayama Campus on October 27. He spoke about the current status and future prospects of cancer treatments, and engaged in a lively discussion with about 50 students and faculty members.
Maeda, who is a world-renowned expert in macromolecular therapeutics, created the first polymeric-conjugate drug, SMANCS, which is used to treat hepatoma, a typical liver cancer.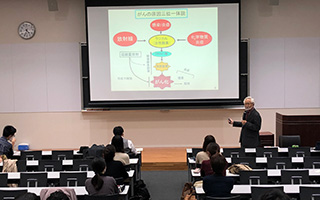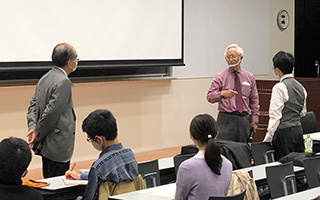 In his 90-minute lecture, he addressed some of the general problems in treating cancer, such as the ineffectiveness or incompatibility of certain drugs, as well as the mutation of cancer cells. Nonetheless, he said, new initiatives and innovative treatments are constantly being developed, and early detection of the cancer will give patients the best chance of survival.
He stressed the importance of prevention, over treatment, of cancer, and recommended a healthy diet as a way to modulate, or reduce, the generation of reactive oxygen species (ROS). Excessively elevated rates of ROS generation have been detected in almost all precancerous stages and cancers, where nitric oxide generation is concomitantly involved.
Maeda recommended eating more vegetables - especially cooked vegetable soup - because they contain a variety of antioxidants that can protect the body from ROS or reactive nitrogen species (RNS), which are called phytochemicals. He added that vegetables are also "a treasure trove of useful ingredients and vitamins" for cancer prevention.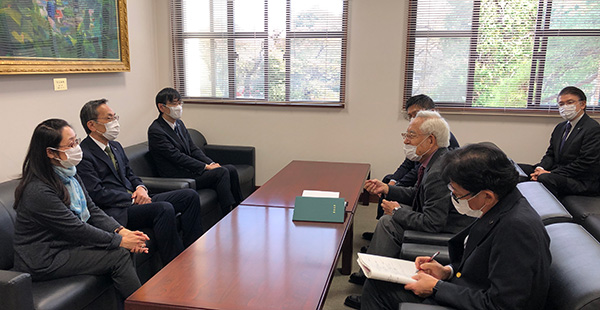 Earlier in the day, Maeda had a brief meeting with Tohoku University President Hideo Ohno and other senior board members at Katahira campus. They discussed the recent challenges faced by Japanese institutions due to the government's budget cuts in education and culture, as well as the COVID-19 pandemic. Maeda, who is currently the director of BioDynamics Research Foundation, said he still enjoys doing the occasional lecture and engaging with students.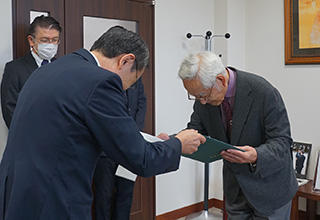 Maeda completed his doctoral course at Tohoku University's Graduate School of Agricultural Science in 1968, and is one of three alumni to be conferred the title of Distinguished Invited University Professor in April. The others were Sumio Iijima and Akira Endo. The position acknowledges the recipients' expertise and accomplishments in their field and invites them to guide the university's young researchers through lectures and the exchange of ideas.
Tohoku University has only conferred the title of Distinguished Invited University Professor five times since the programme began in 2015. Masato Sagawa, one of the world's leading experts in permanent magnet materials research, was appointed to the position in November 2019. And the late Nobel Laureate Peter Grünberg was the first to be given the title in May 2016.
Contact:
Tohoku University Graduate School of Agricultural Science
Email: agr-syom

grp.tohoku.ac.jp