Orientation for new international students was held on April 3 at the Multidisciplinary Research Building of Kawauchi Campus. More than 160 students attended the event. They included undergraduate and graduate students on both degree-seeking and exchange programmes starting this spring.
For the first time, the lecture was held in two languages - English and Japanese - in separate sessions that took place simultaneously. Participants heard useful information about university facilities, club activities, student support services and various English language resources, such as this website and the university's official social media platforms.
Students were also told about the Center for Counseling and Disability Services and reminded of the importance of healthcare and mental health awareness.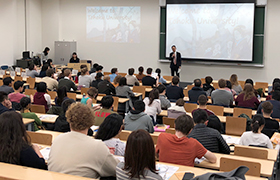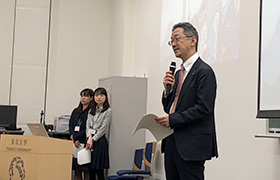 Following the unfortunate incident this past year that saw several foreign students arrested on drug charges, every effort was made to ensure that all incoming students understand the consequences of breaking the law.
"In Japan, it is of course illegal to use, sell, or buy banned substances. It is also a crime to accept them from others or just possess them," said Masahiro Yamaguchi, the Vice President of Education Reform and Global Engagement, in his opening speech. "Tohoku University takes strong disciplinary measures against students who commit drug-related crimes. Please do not involve yourself with drugs in any way while studying here."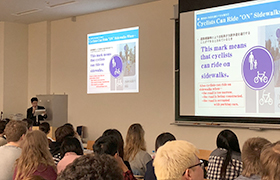 Minako Nakashima from the Global Learning Center outlined some of the penalties students will face if they break the law, such as expulsion, deportation and the cancelling of all academic credits earned. Scholarships will be rescinded and the money must be returned in full. Exchange students might even face further penalties when they return to their home countries as their universities will also be informed of their transgressions.
The message was reinforced on a wider scale by members of the Miyagi prefectural police who gave a multi-scenerio presentation, warning students to be alert not just to drug related dangers but to potential crime in general, around the city.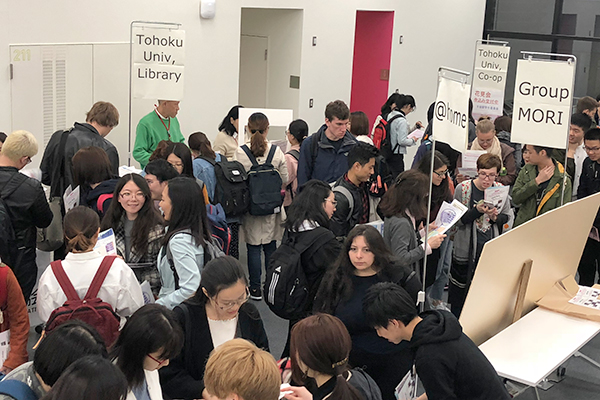 In the second half of the orientation, students were encouraged to visit booths set up in the atrium outside the lecture theatres by eight student and community organisations.
For those interested in community outreach, the Tohoku University Foreign Students Association (TUFSA) and the Tohoku University Volunteer Support Center (SCRUM) were on hand to introduce their activities and recruit new members.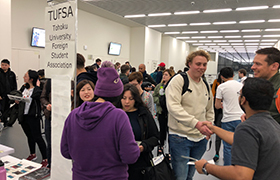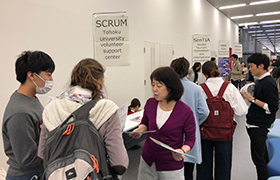 Sendai Tourism, Convention and International Association (SenTIA) and Miyagi International Association (MIA), which are among the many groups that bridge the city's local and foreign communities, handed out fliers offering language classes and cultural exposure.
The university encourages students to get involved in positive community activities as a way to make new friends and experience the local way of life.
Contact:
International Support Office
Tohoku University Student Exchange Division
Tel: +81 22 795-3247
Email: supportoffice@grp.tohoku.ac.jp