The Tohoku University Engineering Summer Programme (TESP) celebrated its 10thanniversary this year, hosting 85 participants from partner universities around the world.
Anchored by Robotics, led by Professor Kazuya Yoshida, this year's programme featured courses from three other prominent divisions within the Graduate School of Engineering - Electrical and Electronic Engineering (EEE), Structural Materials Engineering (SMEC) and Bio-materials Engineering (BMEC).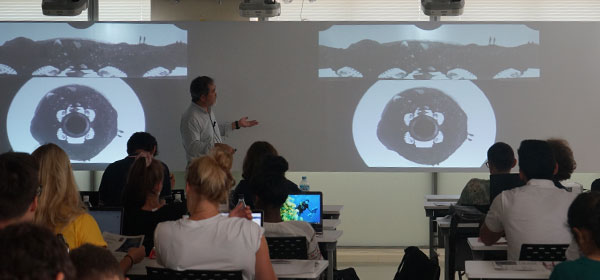 The Robotics Course had a curriculum designed to give participants a wide sampling of different applications. It included field, rescue and space robotics, molecular robotics and haptic interface.
Harald Luiks, from TU Delft in the Netherlands, is an exchange student already working in Yoshida's space robotics lab. But he jumped at the opportunity to be part of TESP. "It's really exciting to get such a diverse view on robotics. Take for example, the class on moleculor robotics. It's amazing what we can do on such a small scale, using DNA to self-assemble a structure. I'd never seen that before, so I find these lectures really inspiring."
"I had three classes this year where I talked about why it's important that we go to space," said Yoshida. "It's not just scientific curiosity. There's a lot of scientific data - evidence of water and underground caves - that suggests that the Moon can one day be used for human settlement. That's why the Moon is trending again among so many scientists and engineers."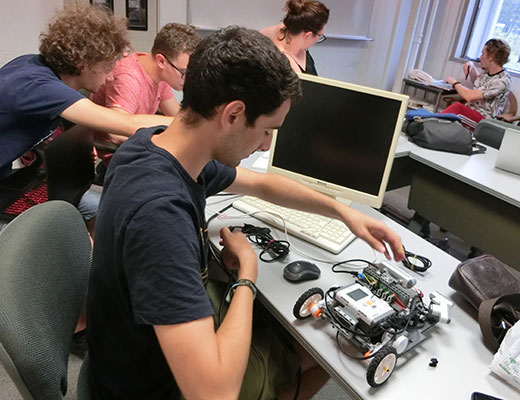 In Yoshida's lab, students worked on a mobile robot with vision-based sensing capabilities, like a lunar rover. "Machine learning, AI and the digital aspects of robotics technology are evolving rapidly. This year, we introduced a brand new camera system which the students were able to do a lot with."
"Most laboratories adapt their hands-on activities to include new sensors, devices and other state of the art technology," said Assistant Professor Jose Salazar, who works on human assistance robotics in Professor Yasuhisa Hirata's lab. "So TESP students get a chance to experience technology that they might not have seen before, and which might be useful for their own research back home."
For TESP, Hirata designed an activity that combines learning about modeling and control, embedded systems and C++ programming, with Japanese culture. "Students built LEGO self-balancing robots that can fight as Sumo wrestlers. Teams had to design their robots, control the robot's behavior and then program strategies to help them win."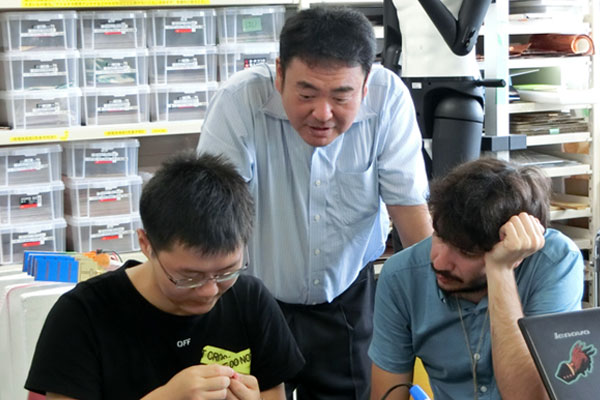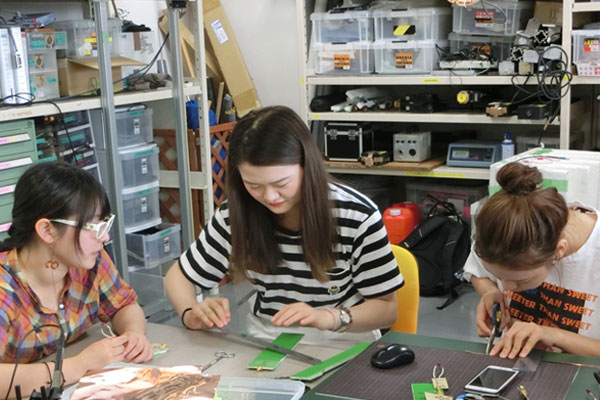 Participants on the Electrical and Electronic Engineering Course learnt the basic theories of antennas and electromagnetic waves.
Students were tasked with designing and fabricating antennas and rectifiers; making a prototype of a wireless power transfer system using electromagnetic waves; and designing and fabricating microwave circuits and solar power cells.
"The participants were really enthusiastic," said Associate Professor Keisuke Konno. "I enjoyed watching them discussing how to solve problems, everyone contributing ideas, during the project work."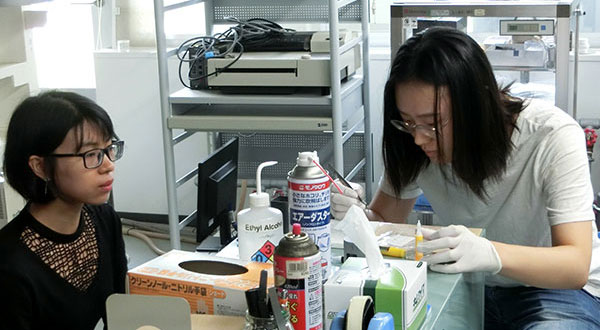 The Structural Materials Engineering Course concentrated on alloy design, how to read and calculate ternary phase diagram, microstructure analysis and mechanical evaluation.
"The hands-on lab work consisted mainly of Thermos-Calc simulation, arc-melting, sample polishing, X-ray diffractometry analysis, microstructure observation, compression and hardness tests," said Dr Lu Yuan Yuan. The students competed in groups to identify the phases, density, microstructure, hardness, strength and ductility of the alloy they designed.
The Bio-materials Engineering Course concentrated on peptide synthesis and the application of peptide for controlling cell adhesion to the surface of bio-materials.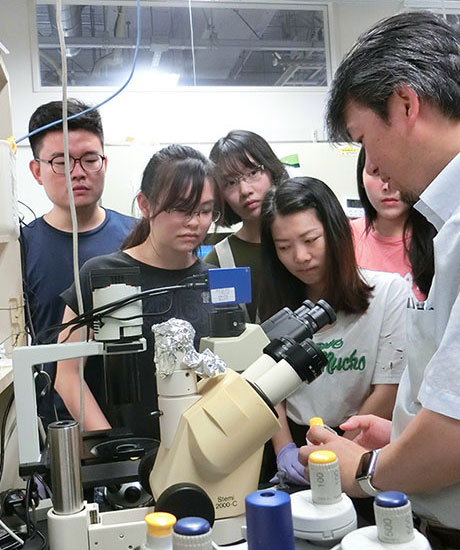 Students worked on two major projects - one to design and synthesize biofunctional peptides for controlling cell attachment, and the other to assess the cell adhesion through microscopic observations.
"Recent advances in 3D bio-printing opened up peptides to a new application for controlling cell behaviors in a complex 3D tissue construct," said Professor Masaya Yamamoto. "I wanted the students to have a better understanding of the importance of peptides in bio-materials."
Away from the classrooms and labs, the students experienced traditional Japanese culture such as tea ceremony and kimono dressing. There was also a field trip to the scenic islands of Matsushima.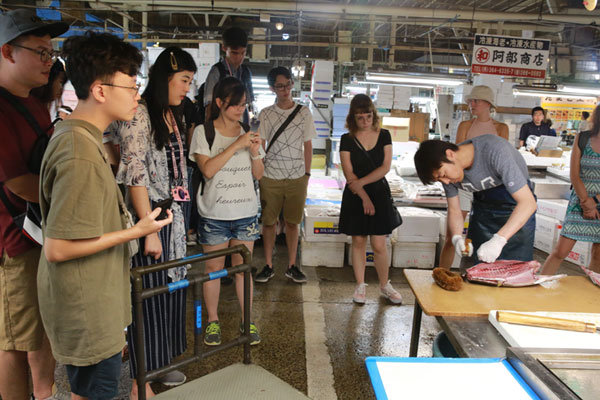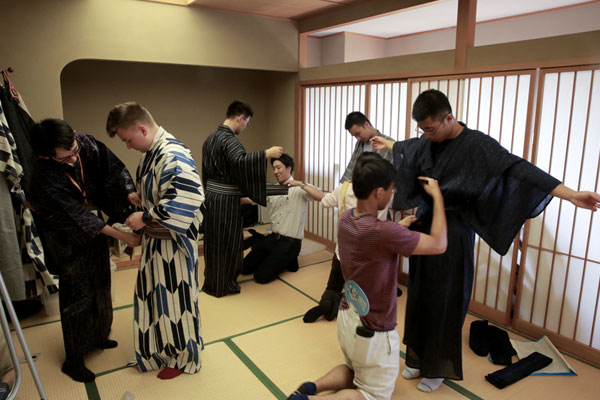 "This is my first time in Japan and everything's been great," said Joseph Peltroche from City University of New York. "I learnt a lot in the lectures, and there was good balance with the lab work. I've really enjoyed the cultural experience too and would definitely come back."
BMEC and SMEC participants toured a metal recycling plant, a Japanese sword studio, a steel casting workshop, and JAXA's Kakuda Space Center, where they got a close-up look at the applications of advanced structural materials. "The students really enjoyed the technical tours," said Lu. "Hopefully we can add more tours to the course in the future."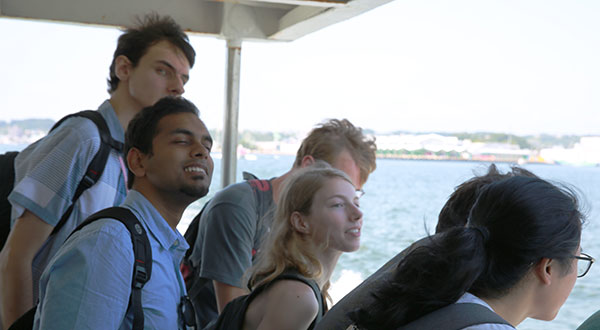 Also looking ahead is Yoshida, who started TESP from scratch with Robotics as an omnibus course a decade ago. "I'm really proud of how far we have come," he said, adding that the next step would be to focus on a more direct relationship between practical applications and collaborative opportunities. "Through TESP we present challenges that very smart, highly motivated students can think about. I always enjoy seeing students from different universities, having different backgrounds, working together to solve common problems."
"The networking opportunity is amazing, and I really like the people I've met here," said Dominika Malinowska from Cranfield University. "I can see some of us being friends for a long time, maybe even collaboration partners in the future."

Contact:
Tohoku University Engineering Summer Program
Division of International Education & Exchange, School of Engineering
Tel: +81 22-795-7996
Email: tesp

grp.tohoku.ac.jp