Japan is set to host the Group of Seven (G7) summit this year, with leaders meeting in Shima City in Mie Prefecture from May 26 - 27. But all eyes will first focus on Sendai, where the Finance Ministers and Central Bank Governors' meetings are scheduled to take place the weekend before.
The G7 is an informal bloc comprising Canada, France, Germany, Italy, Japan, the United Kingdom and the United States. As they collectively represent nearly two-thirds of global wealth, their economic and political influence cannot be understated.
Casimir A. Yost, senior fellow at the Institute for the Study of Diplomacy at Georgetown University, was at Tohoku University last month. At a special lecture at the TOKYO ELECTRON House of Creativity, he highlighted the most pressing global challenges, and gave his thoughts on the likely agenda for the G7 this year.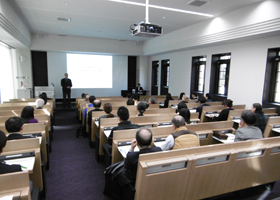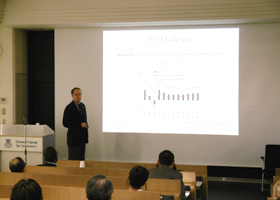 According to Yost, the G7 leadership remains critically important as the world faces extremely diverse threats. Specifically - fragile economic growth, disruptions from climate change, sectarian conflict and collapsing state authority especially in the Middle East.
The rise of two deeply authoritarian states - China and Russia - whose future trajectories Yost described as "uncertain and potentially disruptive," also raises important concerns, especially in a year when the United States is facing a leadership change.
These issues will continue to evolve against a backdrop of on-going megatrends, one of the biggest of which, is demographic patterns. It's estimated that by 2030, the world's population will grow by 1 billion people (to a total of 8.2 billion), which will undoubtedly put pressure on resources such as food, water and energy.
"Japan doesn't have water issues, but China and India have very serious concerns about how to provide sufficient drinkable water to their citizens," said Yost. "If there's insufficient water, then by definition, the challenge of feeding growing populations becomes great."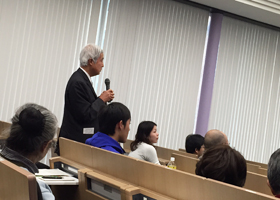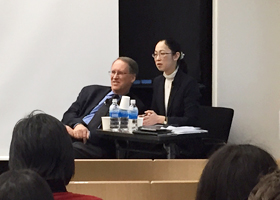 Urbanization and a growing middle class have also led to increasing global demands on fuel and energy. And this translates, in some countries, into life-threatening pollution problems. "China has four cities that exceed World Health Organization standards; India has thirteen. However, India also has 200 to 300 million citizens without access to electricity. Which means that coal, which has a high carbon footprint, becomes part of their solution."
It is therefore no surprise, added Yost, that the failure of climate change mitigation and adaptation has been flagged by the World Economic Forum as the most critical risk facing the world in 2016.
Another megatrend that's increasingly hard to ignore, is the rise of individual empowerment through information technology - a double edged sword that can do as much harm as good. "Humanitarian organisations that work on development and health are empowered through technology and their ability to collaborate and cooperate with others. But terrorist groups are also empowered through the same technology," said Yost.
Other critical issues that need to be considered include trade and the Trans-Pacific Partnership Agreement, global health security and, of course, the climate. "The recently completed Paris Agreement took necessary but insufficient decisions to limit the growth of carbon emissions and the rise of global temperatures. Now individual nations will have to take implementing actions to avoid catastrophe."
Besides Shima and Sendai, nine other major cities around Japan. including Hiroshima, Niigata and Kobe, will also host various G7 ministerial meetings this year.