Tohoku University hosted its 18th Gender Equality Symposium online on December 11, featuring lectures and a panel discussion on strategies to improve diversity in academia from the male perspective.
To kick things off, Mami Tanaka, a professor at the Graduate School of Medical Engineering, and special advisor for the promotion of diversity, outlined several recent initiatives at Tohoku University.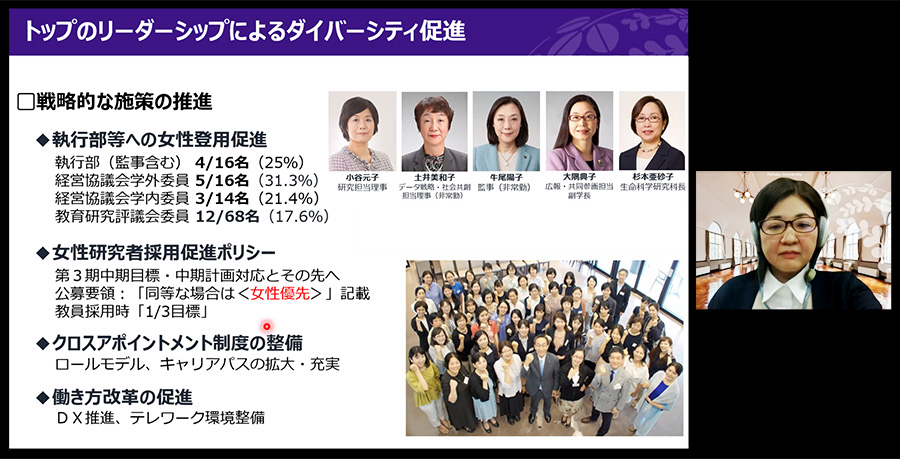 These include the appointment of two female executive vice presidents in 2020, to add diversity to the voices in the leadership ranks; and an agreement to have a cross-appointment system with Ochanomizu University, a women's college, to increase female participation in more research fields.
Tanaka also spoke of the efforts of the Tohoku University Center for Gender Equality Promotion (TUMUG), to improve the working environment of female researchers by providing financial and emotional support, nursey schools and child care services on campus.
Kazuo Yamaguchi, the Ralph Lewis Professor of Sociology at the University of Chicago, delivered the keynote lecture on "The Realization of a Gender-Equal Society: An Empirical Study from a Gender-Neutral Standpoint."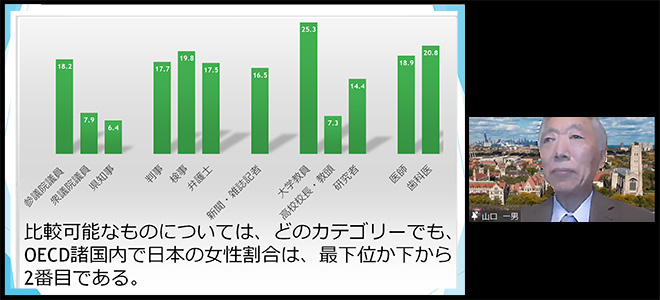 "The issue of work-life balance cannot be achieved simply by improving women's workplaces and employment practices without reforming the way men work," he said, referring to the expectation of long hours at many Japanese workplaces. "Many women are not able to work under the traditional male working style, which sacrifices the family. And this is one of the causes of discrimination against women by employers."
He noted that in a survey among OECD countries, Japan has the lowest percentage of men who share in the housework and childcare at 18 percent, compared to Korea (25 percent) and the US (37 percent). Equality in the workplace, he said, "cannot be achieved without the equal involvement and commitment of both members in a couple to share the housework and childcare."
Yamaguchi also called for reforms to employment practices based on the traditional and often-outdated division of labour between men and women. In the Japanese system - which is mainly controlled by men - a large number of women are "non-regular workers," he said, and they tend to earn less and do not have the same protections against firings and layoffs as regular workers do.

In the second part of the symposium, Yamaguchi was joined in a lively panel discussion by Professor Tetsuji Kamiya from the Graduate School of Education, Kohei Tanabu from the University Library, Assistant Professor Huie Zhu from the Graduate School of Engineering and Professor Rie Umetsu from the Institute of Metal Materials.
Tanabu, who took a year of childcare leave when his wife gave birth, said the experience was fulfilling but also an eye-opener. "I thought I would be helping my wife and that I would have time to do hobbies since I didn't have to work. But there was no time at all."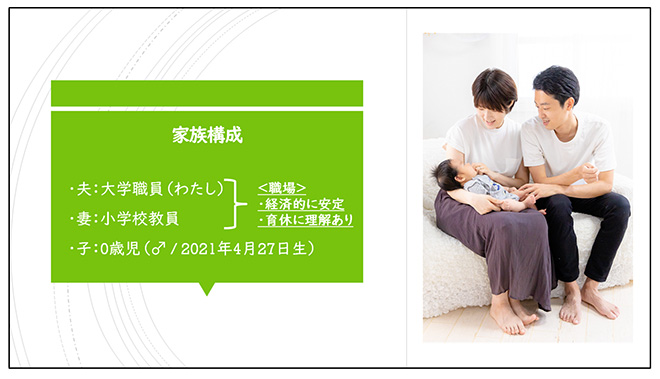 He added that as there are still so few men who take childcare leave, it can be quite lonely. "As men we're not good with emotions, so I think we need to create an environment where men can to talk and share their experiences, get advice and support each other."
When asked if he would take childcare leave again if he had a second child, Tanabu said yes, but would prefer to take blocks of time off, rather than a continuous year. "Sometimes I feel like I'm not needed so much at home, so during those times it would be good to have the flexibility to go to work," he said. "It's important to have employers who understand and support male childcare leave. We need to have more progressive employers in Japan."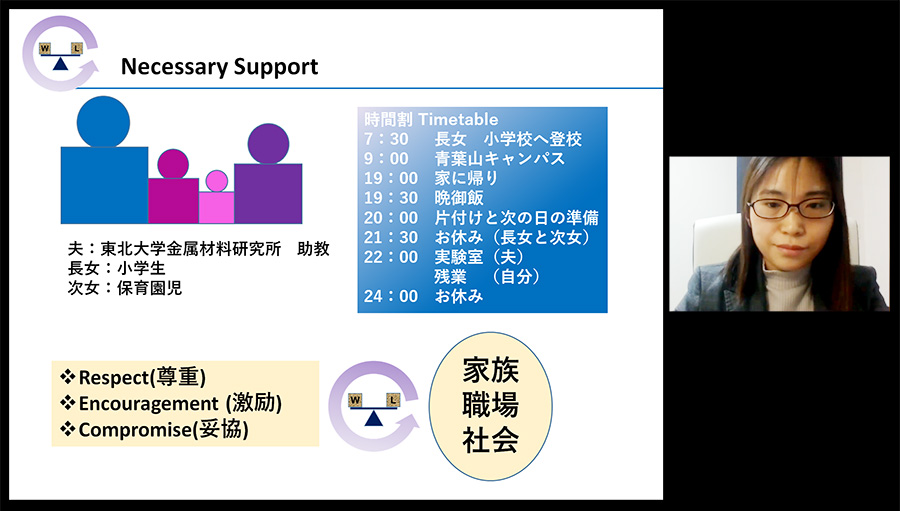 Zhu, who is originally from China, spoke about the challenges of working while raising two children. She said the financial support she received from TUMUG, as well as being able to place her children in kindergarten and nursery school on campus, made it possible for her to continue her research.
Zhu and her husband, who also works at the university, plan their daily schedule in order to share the housework and childcare responsibilities, while supporting each other in their jobs. "For female researchers to achieve work-life balance, it's important that there is respect, encouragement and compromise within the family, and also in the workplace," she said.
The symposium, which attracted more than 230 participants online, was held in English and Japanese, with simultaneous translation.
Contact:
Human Resources and Planning Department
Email: danjyo

grp.tohoku.ac.jp
Tohoku University Center for Gender Equality Promotion (TUMUG)
Email: office

tumug.tohoku.ac.jp