The third public demonstration of the Tough Robotics Challenge project was held over two days in June at Tohoku University's Aobayama Campus.
The TRC is part of the Japanese government's "Impulsing Paradigm Change through Disruptive Technologies Program" (ImPACT) aimed at developing remote autonomous robots that are tough enough to support humans in extreme and hostile disaster environments. Many of these robots are expected to play a big role in future search and rescue operations, especially after large-scale disasters.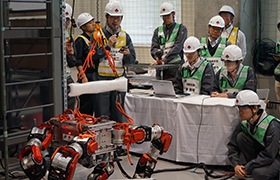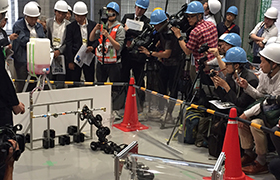 In the first session, Tohoku University Professor Satoshi Tadokoro and his team unveiled an improved version of the serpentine Active Scope Camera robot.
The ASC robot, which crawls on the ground like a snake and can penetrate small gaps in the ground, now has the ability to levitate its camera-fitted head to get around obstacles. This new feature - believed to be a first of its kind - is powered by an air injection nozzle and significantly improves the robot's ability to steer and survey.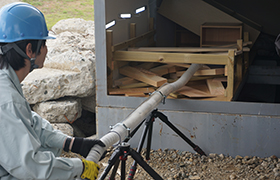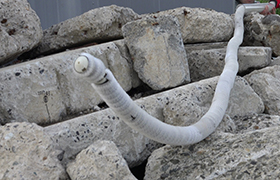 The robot is 8 meters long, weighs about 3 kg and moves at a pace of 10 cm per second through the vibration of its short brush-like hairs.
An earlier version of the robot was used to survey the Fukushima nuclear power plant damaged in the 2011 tsunami and earthquake. Some of its initial problems included getting stuck - and the camera view being obstructed - because of large debris in its path.
The researchers are confident that with the new robot able to climb over objects 20 cm high, those problems have been resolved.
"The previous model took a long time to change direction because it mainly moved forward. This new version can go down as well as up, and by levitating its head, it can change its orientation quickly, so it can see more and get around things in its path," said Associate Prof Kenjiro Tadakuma, a member of Tadokoro's team.
There are also significant upgrades to the Construction Robot, star of last November's demonstration. The Construction Robot is built to remove heavy debris, as well as perform high risk construction, while an attached drone gives it enhanced aerial vision.
The new, improved version - shown during the second demonstration session - can better handle steep slopes and irregular terrain, and features two swivel arms, with a dexterous multi-fingered hand at the end of one.
"The tethered drone is now able to estimate its position by observing the slack of the tether instead of relying on the Global Positioning System (GPS)," said Professor Keiji Nagatani of Tohoku University. "When steep cliffs, large trees or bridges are nearby, the signal of the GPS is unreliable, and autonomous flight becomes unstable. Our simple solution offers more stable support to the remote operation of the construction robot."
Tohoku University is one of several institutes working on the Construction Robot in collaboration with project leader Osaka University and Komatsu Co. ltd.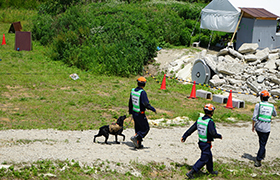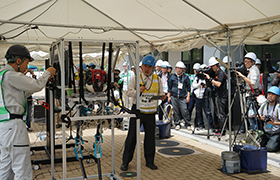 Other robots shown in the second demonstration session included the cyber rescue canines, a climbing legged robot, as well as versatile and high functioning drones.
The drones have already been particularly successful in recent rescue and recovery efforts, providing useful overview data in the aftermath of last year's Kumamoto earthquake and the Hiroshima landslide.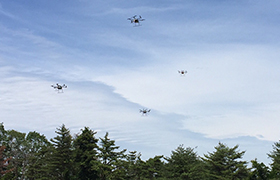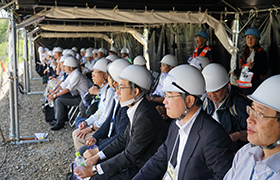 "We've produced many more outcomes than I expected, with five types of robot platforms that have good capabilities performing well," said Tadokoro, who is also the program manager of the ImPACT-TRC program. "Several robots and robot components are already being tested in industrial and disaster environments, and we are optimistic about the collaborative works that we have started with our industrial partners."
The five-year project is expected to continue through 2018.
Contact:
Satoshi Tadokoro
Graduate School of Information Sciences, Tohoku University
Project Manager, ImPACT Tough Robotics Challenge
Email: tadokoro@rm.is.tohoku.ac.jp