Twenty Tohoku University students participated in a two-week virtual study abroad program with the University of Montana last month. Led by Associate Professor Rick Meres from the Center for Culture and Language Education, it was an online version of the perennially popular Faculty-Led (FL) Program, which provides thematically-focused study abroad experiences.
The students attended daily online seminars with faculty from the University of Montana. The two week syllabus focused strongly on cultural diversity and exchange, social and environmental issues.
"Our goal was to incorporate as many elements of the original program as possible into the virtual version," said Meres. "We could not take students into Montana's wilderness like we would if we were physical there, but we maintained quality lectures with the professors, and gave our students plenty of opportunities to interact with the Montana students in breakout sessions on Zoom."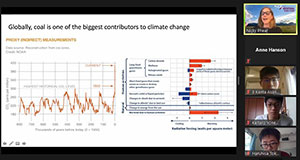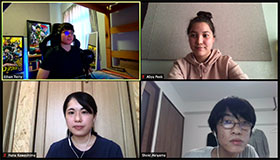 Shoki Akiyama, a second year student majoring in geophysics, said he signed up for the program because he was interested in learning more about the environment from different perspectives. "I think it's important to exchange opinions with people in different countries because environmental issues, such as climate change, are global problems, and we need international cooperation to solve them."
Takuma Furuyama, from the Faculty of Arts and Letters, said he talked about the Black Lives Matter movement with the American students. "I was actually quite surprised that American students talk about politics and social problems with friends because in Japan that is not common. And some Japanese students don't even have knowledge about such topics," he said. "I think Japanese students should learn to share their opinions. All people should think about global issues as if it's their own problem."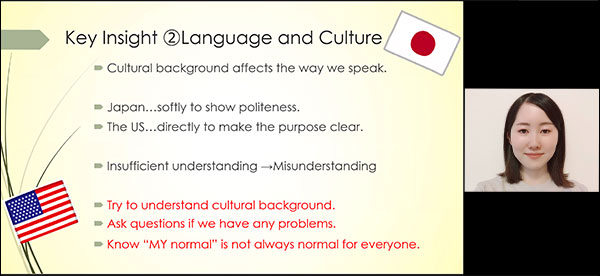 To enhance global communication, the Tohoku University students took classes at the English Language Institute, and also spoke to American students currently learning Japanese.
"The classes for 'Language Exchange with Japanese Studies Students' were wonderful," said Kanako Sako, a third year nursing student. "Japanese students introduced special characteristics about the Japanese language, and we talked about cultural and linguistic differences. These classes let me re-discover my own culture."
On the two Saturdays, the cultural experience moved out of the classrooms and into the homes of local Montana families with whom students did a virtual homestay. Students used English to share information about themselves and traditional Japanese culture, such as tea ceremony, and engaged in some popular culture like video games.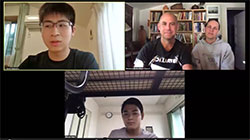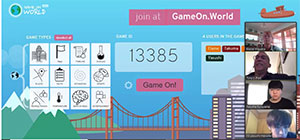 They also gained some insight into the daily life of their American hosts. "My host family said that they used to engage in volunteer activities before the COVID-19 outbreak. They said that doing volunteer work is quite common in the US, which I didn't know," said Sako.
"We had discussed social problems in class, like the aging society and racism," said Akiyama. "But Keitaro Yoneyama and I also discussed political issues with our host family. And I learnt that there are many more social problems in the world than I imagined before."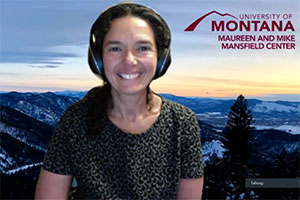 Speaking at the closing session, Deena Mansour, executive director of the Mansfield Center at the University of Montana, called the fortnight a great success and said she hoped to meet the Tohoku University students in person one day. "I want to encourage you to keep in touch with your new American friends and to keep in touch with us at the university and we hope to see many of you here in Montana soon."
Tohoku University features six countries in its FL series - Canada, China, Germany, Spain, Switzerland and the U.S. While there are no plans to re-start the series this academic year, the success of FL Montana bodes well for other virtual study abroad programs. Students who are interested should check the Global Learning Center's website regularly for information.
"Sometimes it feels like the whole world is on pause, but it's important to keep moving forward," said Meres. "Virtual exchange programs promote international socialization, global partnership and communication in a way that helps students understand their roles and responsibilities in the global community."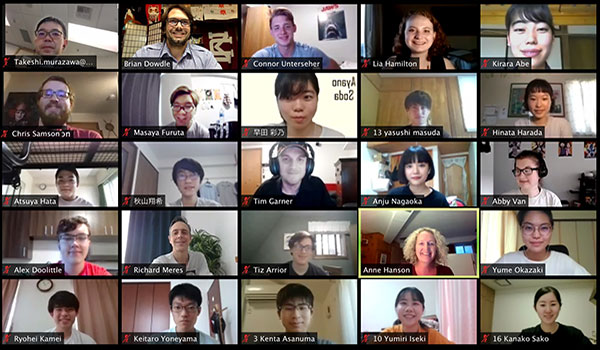 Contact:
Associate Professor Richard Meres
Tohoku University Center for Culture and Language Education
Email: meres.richard.paul.e6

tohoku.ac.jp