Last week, a delegation from the Spanish town of Coria del Río paid a courtesy visit to Tohoku University's Graduate School of Arts & Letters, strengthening connections between Japan and Spain that span more than 400 years.
Coria del Río's mayor, Modesto González Márquez, was accompanied by the president of the Hispano-Japanese Hasekura Tsunenaga Association, Juan Francisco Japón Carvajal, whose family name comes from a Japanese ancestor who had settled there in the 17th century.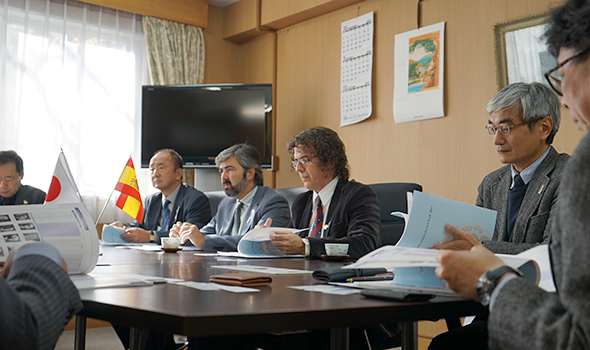 In 1613, Sendai's famous samurai Lord Date Masamune sent a diplomatic envoy to Rome to meet the pope, and to Spain to discuss trade agreements. The mission was headed by Lord Date's right-hand man, Hasekura Tsunenaga.
Hasekura visited Mexico on the way, and forged connections in France and Italy. He failed to negotiate trade agreements in Spain, but left some of his compatriots there as merchants to continue to trade, and to sell the goods they had brought from Japan. Today, some 700 descendants carry the surname "Japón," a sign of their Japanese roots.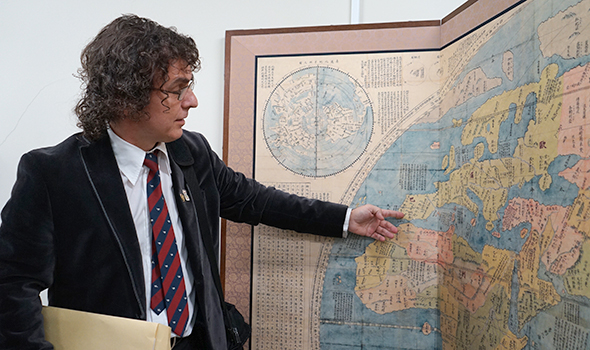 "The Hispano-Japanese Hasekura Tsunenaga Association has been active for around 30 years. We hold events and gatherings to celebrate our Japanese heritage, such as making origami, calligraphy and going on cherry blossom outings," said Japón Carvajal. "In Coria del Río, we hold a haiku contest for school students and have a mixed choir made up of Japanese descendants."
To further the cultural exchange initiated by Hasekura centuries ago, Tohoku University's Graduate School of Arts & Letters formed an international Japanese studies network - the Hasekura League - in 2015. The league comprises 15 European universities, including Salamanca and Granada universities from Spain.
The network will form the basis of an international joint graduate programme in Japanese studies, which will not only focus on Japanese language and culture, but also contribute to the humanities field by tackling issues from a uniquely Japanese perspective.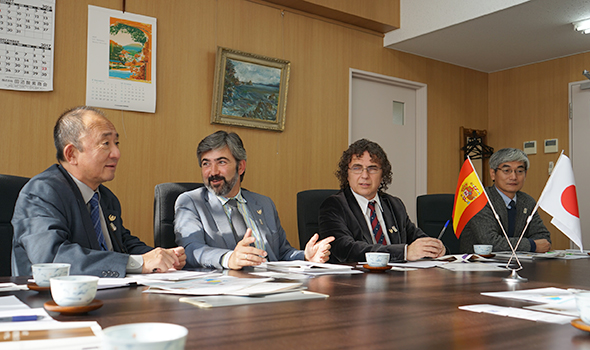 Dean of the Graduate School of Arts & Letters, Professor Koichi Morimoto, said that many young Spanish are interested in Japanese subculture. "It's wonderful that there is an interest in Japan not just by scholars but also at a non-academic level."
"This kind of cultural exchange is very important for nurturing the minds of our young people," said Mayor González Márquez. "It's a privilege for our town to still have this connection with Japan four centuries after the original mission to Spain."
He also mentioned that Seville University, near Coria del Río, has a Japanese studies programme and that they hope to make an academic agreement with Tohoku University in the near future.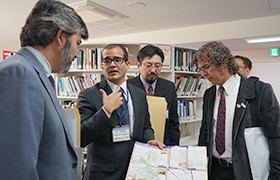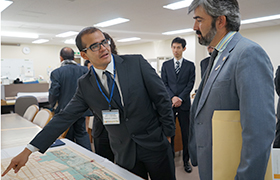 Following the visit to the Graduate School of Arts & Letters, the guests were given a tour of the Tohoku University Main Library in Spanish by medical science student Manuel Campos from Venezuela. They were introduced to the Rare Materials Collection which includes handwritten letters from Lord Date Masamune.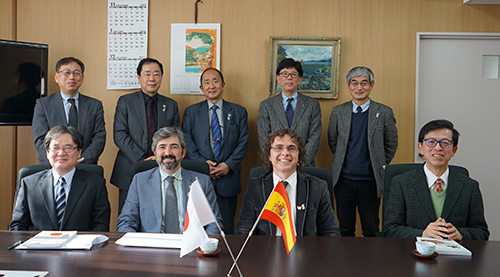 Contact:
Public Relations Division
Tohoku University
Email: public_relations@grp.tohoku.ac.jp