Disaster preparation drills were held at Tohoku University's student dormitories in Sanjo at the end of May, with nearly two hundred students taking part. Drills are held so that students can practise responding to a disaster and to help identify weak points in an evacuation plan.
In a country that experiences regular seismic activity, there is a constant need to remind the local population that a large part of disaster preparedness is being aware that natural disasters can happen anytime. It is particularly important to stress this to international students who may not be familiar with natural disasters.
"Austria is a country with relatively few disasters. We experience some river floodings every now and then, but other natural disasters such as earthquakes don't really happen," said research student Hannah Raab. "So this was actually my first time undergoing a disaster prevention drill."
By contrast, 3rd year science student Naoki Takagishi has grown up doing evacuation drills throughout his schooling in Japan. "At school it involved hiding under a desk and evacuating to the school courtyard, but the disaster drills this time were very authentic. We prepared emergency provisions and experienced navigating our way through a room filled with smoke."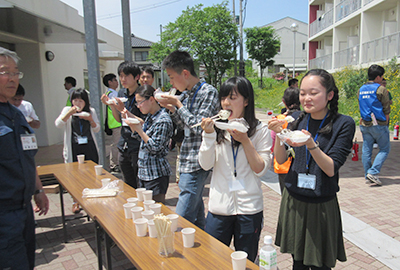 The scenario set for the drill was a large earthquake measuring an upper 6 on the Japan Meteorological Agency's seismic scale. Following the drills, Aoba Ward's Fire Service coordinated a disaster prevention workshop with local organizations and residents, at the student hall at University House.
Demonstrations were given on basic first aid practices such as CPR and how to rescue a victim from a collapsed building. Explanations were given in multiple languages, including English, Chinese, Korean and even French translations.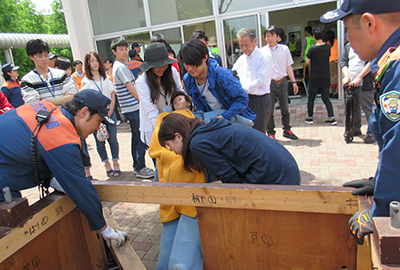 For international students there are often safety concerns from family members in their home countries. Japanese Language Education student Naufal Pandu Suhargo said that his mother once called him from Indonesia because she heard there was a large earthquake in Japan.
"My family were a bit worried about me coming because of the earthquake in 2011," explained Suhargo. "I recommend everyone get familiar with the area or building they live in. It's important to know the location of emergency doors so you can act fast in case of emergency."
Professor Kazuko Suematsu, deputy director of the Global Learning Center, urges parents to be involved in their children's safety. "They should stay informed by reading the same materials as the students do. We also encourage students to keep us updated with next of kin details, so we can make contact in case of an emergency."
Raab said she tries to put her parents at ease by sending them messages every time there is an earthquake in the Tohoku region, "I understand that it is worrisome for parents when their child lives far away from them - my dad looks up the newest earthquake information about Japan on an app."
She added that she would rather be over prepared, than under prepared for a possible disaster. "I always have at least 14 litres of drinkable water as well as one week's worth of non-perishable food stored away at my place. One other thing I have is a "go-bag" with all my important documents, some water, some food, clothes for changing as well as some other stuff, always within easy reach when I go to bed."
Assistant Professor Mettaya Kitiwan of the Institute for Materials Research was here as a student during the 2011 Great Eastern Japan Earthquake, and reiterates the need to prepare. "I hadn't prepared water or food at that time and it was very difficult to find. We should know what our risks are, in order to protect ourselves and our family effectively."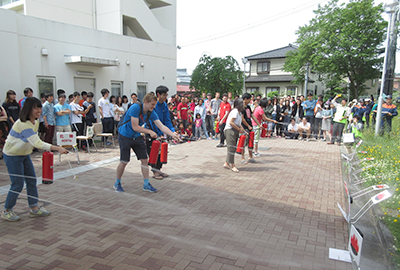 Tohoku University has a safety confirmation system to verify the whereabouts of all staff and students following a disaster. Online resources about disaster preparation can be found on Tohoku University's International Support Office website below.
Contact:
Education and Student Support Department
Tel: +81-22-795-3943