Students got their hiking boots on at the end of May, for an educational weekend of nature walks hosted by the Kawatabi Seminar Center. The center holds seasonal field trips for staff and students of Tohoku University at its facilities on the grounds of the Graduate School of Agricultural Science.
Twenty three nature lovers took a two-hour ride on the minibus chartered by the Seminar Center to Osaki City, near the popular spa resort at Naruko.
Led by Assistant Professor Yu Fukasawa from the Graduate School of Agricultural Science, the group walked through natural woods, navigating around hot water springs.
"We went for hikes around the seminar center and learned many interesting things about flora and fauna from the teacher," said Aniko Karpati, a graduate student of medical sciences.
"Walking through the forest was a nice experience as opportunities to do so when you live in a city don't come by so often," said marine biology student Germaine Lau. "Another highlight was walking next to the hot spring river in Arayu Jigoku. The water was really hot so we had to be careful not to fall in. It was exciting to trek downstream, and we could soak our legs in the hot spring further away from the water source."
In addition to the seasonal seminars, the facilities can be used for training, workshops or study. All it requires is a group of at least five staff or students to submit an application. Stays can be up to five days long.
"I'm looking forward to the Autumn edition, especially anticipating the change in the colour of the leaves," said Lau. "We saw many species of Japanese maple trees and the professor introduced us to the colours each species would change to when autumn comes around."
Karpati also said she is keen to return to Kawatabi, "I would go again. It was definitely an enriching experience. I had fun discovering the unspoiled nature of Tohoku and making new friends."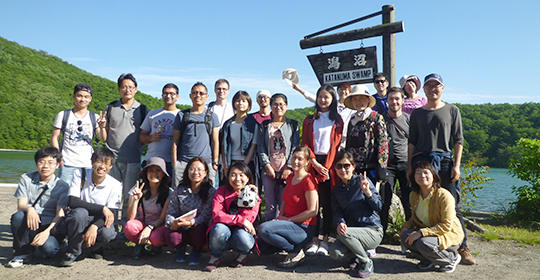 Contact:
Education and Student Support Department
Support Planning Section
Tel: +81-22-795-7818