Dr. Ryo Egawa, a former research associate at Tohoku University, has ranked in two categories at the prestigious 2017 Nikon Small World international photography competition. He placed 7th in the photo competition and received an honourable mention in the video category.
Egawa, who is currently at Nagoya University's Graduate School of Medicine, had previously worked at the laboratory of molecular and cellular neuroscience at Tohoku University's Graduate school of Life Sciences.
About Nikon Small World
Nikon Small World is an international light microscope photography competition that started in 1975. This year's winning images were carefully selected from more than 2,000 entries from 88 countries around the world.
About Egawa's winning photo and video
The winning photo and video, which look like a bouquet of flower buds, comprise neuronal circuits in the ganglion behind the eye of an embryonic chick. The numerous bud-like structures are giant presynaptic terminals engulfing the postsynaptic cell soma. Each neuron is labeled with different color by the genetic engineering technique called Brainbow.
The intact morphology of the neuronal circuit hidden in a tiny and whitish tissue less than 1 mm3 was visualized 3-dimensionally by taking advantage of tissue clearing technique and the cutting-edge confocal microscopy, Olympus FV3000.
The laboratory of molecular and cellular neuroscience at the Graduate School of Life Science has been studying the developmental mechanisms of neural circuit using this model system.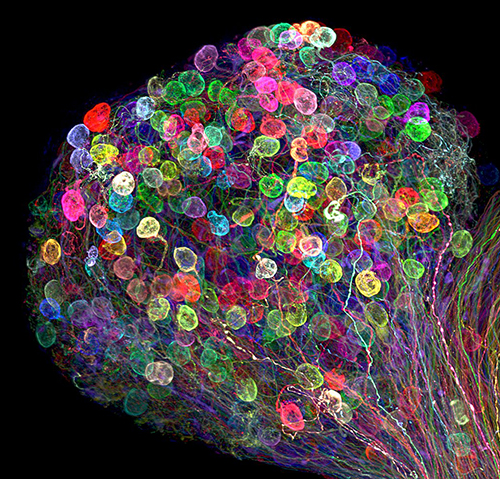 Individually labeled axons in an embryonic chick ciliary ganglion

News in Japanese
Contact:
Public Relations Office
Graduate School of Life Sciences, Tohoku University
Email: lifsci-pr@grp.tohoku.ac.jp