Important updates will be posted on the university's official websites (English, Japanese) and social media pages (FB, Twitter, Linkedin, Instagram), so everyone is encouraged to click follow or check back regularly.

To accurately reflect the changing situation in Sendai, and to ensure that students get the best education while keeping safe, the university will occasionally make changes to the measures listed in its emergency action plan (BCP).
BCP (emergency action plan)
The BCP is at Level 0 from April 1, 2023
New information:

Please remain vigilent
Alert areas:
Situation in Miyagi Prefecture and Sendai City.
Safety Measures: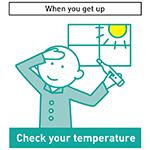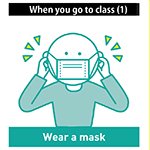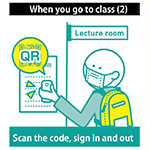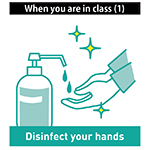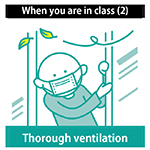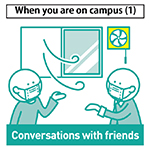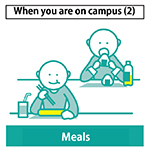 Notice of the COVID-19 Vaccination by Sendai City
What to do if you feel unwell
If you feel unwell, stay at home.

Here's a printable chart if what to do. (pdf)
If you need advice on new coronavirus infection, please contact the Miyagi / Sendai Call Center at 022-398-9211.
Multilingual support by three-way calling is available for foreign nationals.

Latest News

Positive COVID-19 cases at Tohoku University
*Please respect the privacy of the people affected.
For Students:
Activities
Part-time jobs
Students are allowed to do part-time work, as long as the nature of the job and the working conditions are safe, and they take all possible precaution against COVID-19 infection.
The university continues to strongly discourage students from engaging in work that involve the 3Cs, frequent and close contact with others, or being in a poorly ventilated space.
Student Health Care Center
Please make a reservation by telephone ( 022-795-7833) or by e-mail: gakuso@ihe.tohoku.ac.jp 

To access the service, please log in to Google Classroom via your DC mail account with the following class code.
Class code: wfm3mxf
For travelling students:
Due to the COVID-19 pandemic, new and returning international students are reminded to be aware of the latest immigration requirements for entry into Japan. Please check this site by our International Support Office for updates.
Students are also encouraged to check with their home embassies when making travel plans.
Students and Staff who are planning to Travel
Following a review of COVID-19 prevention measures, Japan is easing restrictions to international travel. Tohoku University employees and students who are considering overseas trips, should refer to the Ministry of Foreign Affairs website for the latest guidelines, and consult with their departments before making plans.
Website of Japan's Ministry of Foreign Affairs:
Contact:
Tohoku University International PR Section
Tel: +81-22-217-4816
Fax: +81-22-217-4818
Email: public_relations

grp.tohoku.ac.jp