In any successful project, good planning is key. And in the world of architecture, the holder of that key is the architectural planner - the unsung hero who works behind the scenes to ensure that all elements come together to create the most conducive conditions possible for a project.
Professor Yasuaki Onoda of Tohoku University's Department of Architecture is one such person. An architect by profession, he understands well the need for pre-project planning.
Before there's even a design, the architectural planner checks the budget, checks the potential of the site and checks the selection system of the architect. "It's the most important phase of the project," says Onoda. "Things will only move smoothly if the planning part is done properly."
The Importance of Space
While architecture conjures up images of impressive buildings along skylines, Onoda's approach to the craft is focused not on the form but on the space within, which he describes as "a kind of medium for our feelings."
To measure the quality of a space, Onoda studies human behaviour. Good architectural planners, he says, always want to know if and why people are enjoying a space. "When you map human density in a building, you can tell the possibilities of the space itself. If a lot of people are gathered in one place, it means that the conditions around that space are very attractive."
Onoda points to Sendai Mediatheque - his first major project as an architectural planner - as an example of successful space.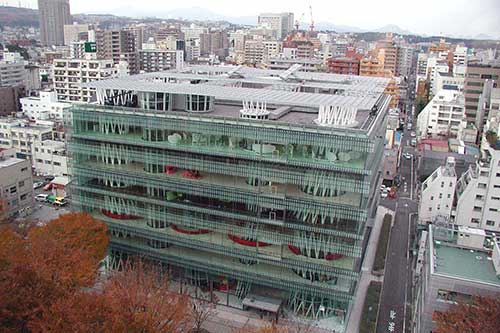 Sendai Mediatheque, integrating the Municipal Public Library and Gallery, was an ordinary public works project until city officials decided to hold open tender for a new concept.
The city required the functions of a library, a gallery, an information centre and an audio visual media centre. Basically, information and art. "I found that if we archive art, art changes to information. And if we edit information, information changes into art. It's a kind of cycle."
With architect Toyo Ito at the helm and Onoda managing the planning process, the concept behind Mediatheque was to enable users to gain information while freely moving around in a wall-free space. Onoda later wrote of the experience, "We carefully tuned the taste of space to prompt users to act voluntarily."
Mediatheque went on to win architectural awards both in Japan and abroad, and propelled Toyo Ito to international stardom. It has also been added to the permanent collection at Centre Georges Pompidou, the French national center for art and culture.
Hagi Hall
Another of Onoda's famous projects is Tohoku University's Centennial Hall (Kawauchi Hagi Hall). The former lecture theatre was extensively renovated in conjunction with the university's 100th anniversary.
"Everyone was just talking about what kind of memorial building they wanted. Nobody was checking the architecture, or budget or working out how the project can be managed," remembers Onoda. "Everything was very chaotic!"
The exteriors of the original Memorial Auditorium and Matsushita Hall were preserved and restored, while the interior was modified into Hagi Hall, a top class auditorium.
Onoda, though only an associate at that time, managed to persuade the committee to build an auditorium, believing it to be more useful and cost effective than the original plan of a museum. Based on budget, feasibility and local competition, he navigated the plans through Japan's complicated building laws. He then recruited renowned architect and Tohoku University alumnus Abe Hitoshi, as well as Mitsubishi Jisho Sekkei, to create a design on a limited budget.
"I checked the conditions, set up the goal and managed to gather a good team," Onoda says. "It's the architectural planner's responsibility to look at the potential of a project, then change that potential into something concrete."
3/11 and ArchiAid
Onoda was in Paris when the Great East Japan Earthquake struck on March 11, 2011. He rushed back to Japan to find a region devastated and a campus badly damaged. "Here at the School of Engineering, three out of five main buildings were crushed by the earthquake. It was a really miserable situation."
There was also the greater community that urgently needed help. The tsunami that followed the earthquake extended over 500 km of coastline, destroying towns, fishing villages and agricultural land.
Onoda and other volunteers continue to help rebuild coastal communities devastated by the 2011 earthquake and tsunami.
To support the disaster-stricken communities there, Onoda co-founded ArchiAid, a network of architects, university faculty members and architecture students. "Ishinomaki was really badly hit, and city officials have been so busy reconstructing the city centre that they couldn't deal with the peninsular. So we got Archi Aid to support the peninsular, to check the condition of the damage there, to talk with the victims, and to create a basic reconstruction plan for them.
Now, more than four years on, Onoda's commitment to Ishinomaki, and other disaster affected areas, remains steadfast. "Many towns are still struggling. I'm supporting the design of public housing for the victims, and we've recently been moving people from temporary housing to public housing. We are also supporting the creation of a new city core - building schools, a shopping mall and cultural centre."
A planner at heart, Onoda continues to contribute to specialist networks like ArchiAid, by introducing members to affected areas that need support, and guiding them in what needs to be done. "I see myself as a guide, bringing talented people to areas where they can help, and together we can hopefully make a difference."
Links: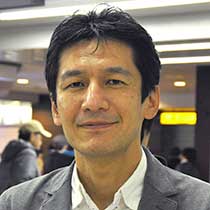 Professor Yasuaki Onoda
Department of Architecture
Recent awards and achievements:
Visiting Professor, University of Hong Kong -- 2015
Architectural Institute of Japan, Committee Member (Director of Enterprise) -- 2013-15
Good Design Award -- 2011
Architectural Institution of Japan Prize for Design -- 2003