The project is called YUI - which in Japanese means unity - because it focuses on the importance of community ties in disaster management.
Led by Mari Yasuda, a research associate at Tohoku University's International Research Institute of Disaster Science (IRIDeS), the project involves bringing disaster awareness and mitigation education into schools and community centers. IRIDeS was established in the wake of the 2011 Great Eastern Japan Earthquake, and is one of the main drivers of the Tohoku University Reconstruction Action Plan.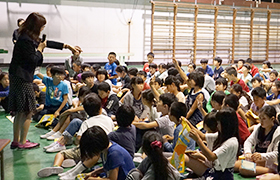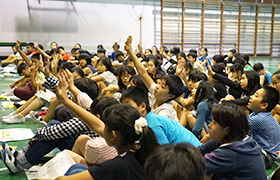 "Children are vulnerable if they have no disaster awareness," says Yasuda. "So the aim of the YUI Project is to teach children the basics about why disasters happen, how to recognize a threat and what appropriate actions to take."
Yasuda's sessions are in two parts - an informative lecture on natural disasters, followed by a group activity, such as worksheets which challenge the students' situational awareness during an emergency.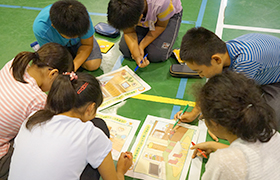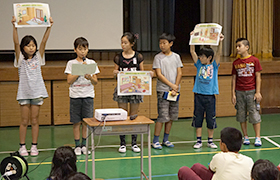 "Japan has a lot of natural disasters. So it is important for everyone to know how to help themselves," said Yasuhiko Kamata, principal of Nakanosakae Elementary School, which recently hosted a YUI Project session. The school was a refugee shelter to some 3,000 local residents during the 2011 earthquake and tsunami.
"These children are very young so their memory of the disaster is probably a bit vague," said Yasutomo Nakatsutsumi, head of the 5th grade, whose students who took part in the session. "It's good for them to understand the mechanics of the earthquake and tsunami. And hopefully through interesting activities like today, they will have information that they can draw on for the rest of their lives."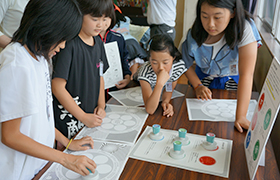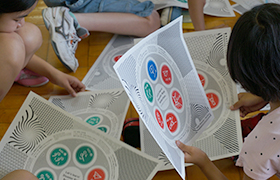 In addition to the worksheets, the YUI Project also has a popular stamp rally, which students at Shizukuishi Elementary School in Iwate had a chance to try recently. To complete the activity, students collect coloured stamps by answering questions such as "what should be done to escape from the shore when an earthquake strikes?" and "What should separated family members do in order to reunite after an earthquake?"
"Young children are very flexible. So by introducing image training that simulates actual situations and experiences, we can nurture a sense of curiosity that would provoke thought," says Yasuda.
"One of the goals of the YUI project is for students to discover their own solutions to dealing with a disaster. It is more effective when they turn their knowledge into practice through experiment learning and activities like the worksheet and stamp rally."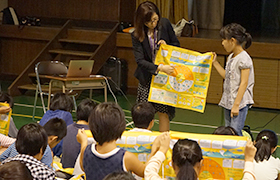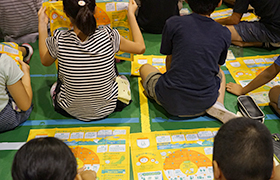 To reinforce the message at the end of each session, students are given a specially designed YUI Handkerchief, which has detailed advice on how to act in a disaster and what to prepare for in an emergency.
The YUI Project began at Tohoku University in 2014, and continues to be supported by Miyagi Prefectural Board of Education, Sendai City Board of Education, Sendai Television and the university's External Relations Department. The project has so far reached children across Miyagi, Iwate and Fukushima prefectures. When not visiting schools, Yasuda also regularly engages women and the elderly at community centers and through talk radio.
"My goal is to create a resilient society through the YUI project," she says. "No matter how advanced science and technology gets, crisis management is all about human behavior. If we are going to coexist with nature, we need to know how to manage ourselves when faced with a natural disaster."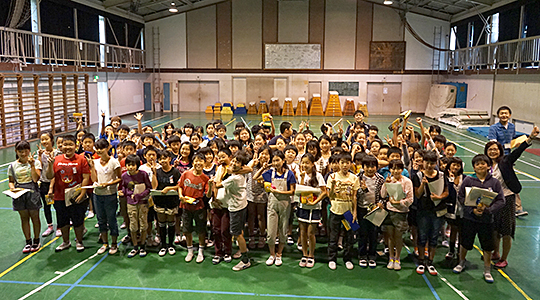 Contact:
International Research Institute of Disaster Science (IRIDeS), Tohoku University
Email: yasuda@irides.tohoku.ac.jp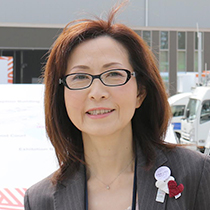 Mari Yasuda
Research Associate, International Research Institute of Disaster Science (IRIDeS), Tohoku University
Licensed Disaster Mitigation Specialist in Japan.
Member of:
Japan Society for Natural Disaster Science (JSNDS)
The Society for Risk Analysis Japan (SRA)